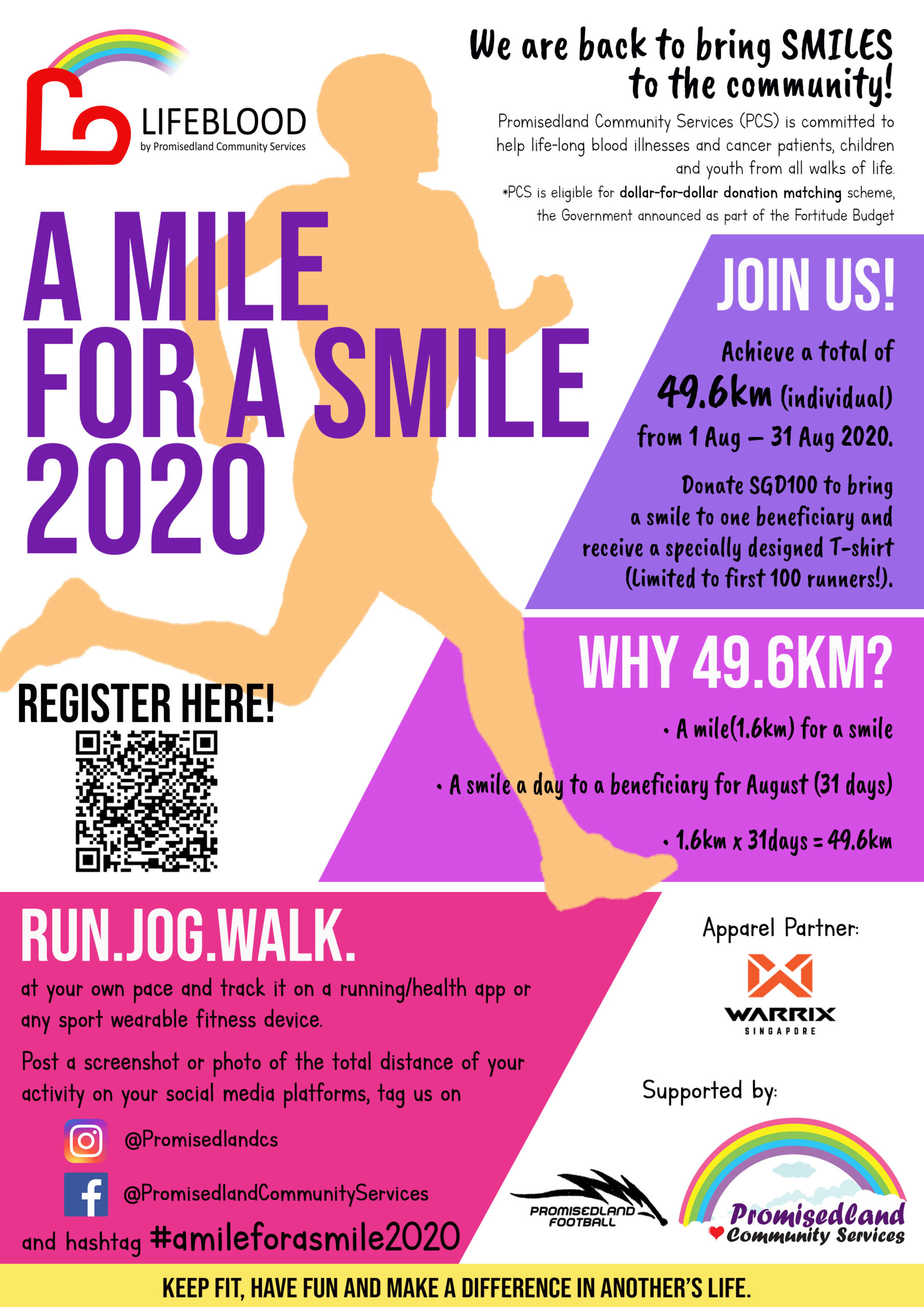 The first "A Mile for A Smile" was launched by Promisedland in 2013. This running event served to raise public awareness and an understanding of the hardships faced by people who are diagnosed with blood illnesses and cancer.
In 2013 and 2015, both events were a great success as many runners signed up and ran several miles to show support for the beneficiaries.
Due to the COVID-19 situation, the livelihood of many has been badly affected especially our beneficiaries who still require monthly medical consumables to treat their illness. Promisedland Community Services (PCS) have been supporting them in their monthly medical consumables as well as their transport fees for their monthly treatments and blood transfusion.
However, regardless of the current situation affecting our world now, the services we have provided all these years are still crucial to our beneficiaries on their journey to recovery. Promisedland hopes that we can still provide financial assistance to them and we hope you will continue to support our cause.
A Mile for a Smile is back to put smiles back into the community for a good cause. Promisedland Community Services (PCS) is committed to help life-long blood illnesses and cancer patients, children and youth from all walks of life.
Join us in this meaningful journey to achieve a total of 49.6km(individual) from 1 August to 31 August 2020. Show your support to the beneficiaries that they are not alone in this life-long battle with their illnesses by doing the following steps:
Sign up here
Donate
Run, jog, or walk at your own pace and track it on a running/health app or any sport wearable fitness device

Post a screenshot or photo of the total distance of your activity on your social media platforms (Instagram or Facebook), tag @Promisedlandcommunityservices on Facebook, @Promisedlandcs on Instagram and hashtag #amileforasmile2020.